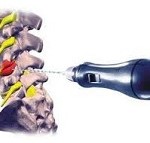 DESCRIPTION OF THE TECHNIQUE
This technique is applied in patients suffering from intervertebral disc protrusion, up to about 6 mm, without rupture of the annulus fibrosus. The intervention is performed without surgical incision, under local anaesthesia and fluoroscopic guidance.
The advantage is that all is needed is a pinch in the lower back, similar to that of a simple injection. A special lumen needle is inserted into the pathologial intervertebral disc and a probe with a rotating tip is advanced through the needle lumen. By applying this method, a small amount of the intervertebral disc nucleus (about 1-2cm3) is removed leading to reduction of intradiscal pressure and gradual regression of the disc protrusion.
The technique can be combined also with transforaminal epidural injection of corticosteroids to treat chemical inflammation of the affected nerve root.
BENEFITS
Percutaneous discectomy is a minimally invasive technique, of low risk, applied to treat intervertebral disc prolapse in the cervical and lower back level. The method can reduce pain, increase physical ability which is limited due to pain and help the patient avoid a potential surgical operation. The technique is designed so as to restore the mechanical cause of pain, that is nerve root compression. According to a study by Tzaan in 2007, 87% of patients treated with this technique had a successful outcome.
RISKS – COMPLICATIONS
As happens with every pharmaceutical and interventional treatment, there are potential risks and complications. These are definitely fewer and more rare compared to those of surgical treatment. The most common adverse event occurring is pain at the needle site after local anaesthesia is gone. This pain, however, subsides with simple pain medication within a few days. Other rare complications are haemorrhage, haematoma, nerve root injury and infection.
RESULTS
The American Society of Interventional Pain Physicians (ASIPP) publishes every one or two years guidelines based on evidence-based medical practice, regarding spinal chronic pain management. According to a study by Boswell in 2007, 79% of patients who underwent percutaneous disc decompression reported more than 70% pain relief. These patients had been suffering from retrolateral intervertebral disc protrusion causing sciatica due to some nerve root compression.
MEDICAL INFORMATION SOURCES

1. PAIN PRACTICE JOURNAL
2. BONICA"S MANAGEMENT OF PAIN
3. PAIN PHYSICIAN JOURNAL
4. INTERVENTIONAL PAIN MANAGEMENT BOOK
5. MANUAL OF RF TECHNIQUES (GAUCI)
JOURNAL ARTICLES
Interventional techniques: evidence-based practice guidelines in the management of chronic spinal pain. Boswell MV, Trescot AM, Datta S, Schultz DM, Hansen HC, Abdi S, Sehgal N, Shah RV, Singh V, Benyamin RM, Patel VB, Buenaventura RM, Colson JD, Cordner HJ, Epter RS, Jasper JF, Dunbar EE, Atluri SL, Bowman RC, Deer TR, Swicegood JR, Staats PS, Smith HS, Burton AW, Kloth DS, Giordano J, Manchikanti L; American Society of Interventional Pain Physicians. Pain Physician. 2007 Jan;10(1):7-111 PMID: 17256025 Transforaminal percutaneous endoscopic lumbar discectomy. Tzaan WC. Chang Gung Med J. 2007 May-Jun;30(3):226-34 PMID: 17760273