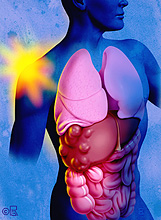 GENERAL
Thirty per cent (30%) of cancer patients suffer from pain during the diagnostic phase and 65-85% experience severe pain in more advanced stages of the disease. According to Cleeland et al, 67% of patients treated for the disease in an outpatient setting experience pain which is undertreated and, as a result, they have a moderate to poor quality of life while their daily activities are significantly limited.
The reason for the insufficient treatment of cancer pain lies in the fact that the pain is not properly evaluated, diagnosed and treated by specialized pain clinic staff. Cancer patients usually visit pain clinics after they have already become exhausted psychologically, physically and financially, wondering in despair and surprise why no one had  informed them before about their potential and right to have a specialized pain treatment.
Metastatic Cancer

TYPES OF CANCER PAIN
Physical pain
Visceral pain
C. MIXED PAIN (NOCICEPTIVE AND NEUROPATHIC)
AETIOLOGY OF PAIN
Direct tissue and organ infiltration from the malignant tumour
Pain induced by the therapy itself (chemotherapy, radiotherapy, surgical intervention)
Pain irrelevant of the disease and its therapies (e.g. low back pain, headache etc)
Pain induced by a combination of the above causes
PAIN SYNDROMES RELATED TO CHEMOTHERAPY
Painful polyneuropathy
Painful aseptic necrosis of the femoral or humeral head
Arhtralgia and myalgia after steroid dose reduction
Painful oral mucositis
PAIN SYNDROMES FOLLOWING RADIOTHERAPY
Post-radiation fibrosis of the brachial or sacrolumbar plexus
Post-radiation myelopathy
Osteonecrosis
Oral mucositis, proctitis (inflammation of the annus)
PAIN AFTER SURGICAL ONCOLOGICAL INTERVENTION
Pain following thoracotomy
Pain following mastectomy
Pain after cervical surgery for tumor excision (throat)
Stump (coloboma) pain, after limb amputation
PAIN TREATMENT
The therapeutic treatment of pain includes pharmacotherapy, invasive techniques and combination of the two.
PHARMACOTHERAPY
Drugs are selected according to the type/ degree of pain and side effects that occur. In most cases there is need for a combination of drugs of different categories. Doses  should be slowly increased and the result should be closely observed; therefore, frequent contact between the therapist and  patient is essential.
INVASIVE TECHNIQUES
Invasive techniques are selected according to the type and site of pain, and should be applied before using strong opioids in an effort to avoid or/and limit their dose.
Should the pain be resistant to therapy or the patient can not tolerate drug side effects, then other techniques are followed aiming at the administration of opioids or/and other active drugs to the central nervous system. The selection of the route and mode of administration is dependent on the survival expectancy of the patient.
MORPHINE DOSAGE REGIMENS ACCORDING TO DIFFERENT ROUTES OF ADMINISTRATION
300mg per os
100 mg i.v.
10 mg epidurally
1mg subarachnoidally (within the cerebrospinal fluid)
According to studies published in the American Clinical Oncology Journal, the successful treatment of pain has improved the quality of life of cancer patients and has increased their survival rate.
MEDICAL INFORMATION SOURCES
1. PAIN PRACTICE JOURNAL
2. BONICA"S MANAGEMENT OF PAIN
3. PAIN PHYSICIAN JOURNAL
4. INTERVENTIONAL PAIN MANAGEMENT BOOK
5. NEUROMODULATION JOURNAL