1.   Intra-articular corticosteroid injection. Infusion of a solution of corticosteroid and local anaesthetic into the painful joint. The steroid has a strong anti-inflammatory effect on the irritated joint and the local anaesthetic temporarily anaesthetizes the nerve branches terminating into the joint.
The technique is applied under local anaesthesia at the injection site and under fluoroscopic guidance. The patient is placed in the prone position. As soon as the needle is inserted into the joint, a small amount of contrast medium is infused to confirm the needle's proper position. Then, the therapeutic solution is injected.
Alternatively, the corticosteroid can be replaced by Traumeel, which is a homeopathic natural anti-inflammatory drug with very few side-effects.
2.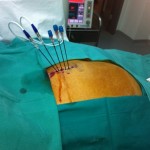 Radiofrequency neurolysis of the lateral sacral nerve branches exiting from the three first sacral foramina and of the 5th posterior primary branch. The intervention is applied with local anaesthesia at the needle site. With the use of fluoroscopy, the sacral foramina are identified and the needles are placed externally to them, in such a way that the electric field is applied on a largest possible surface so as to destroy the nerve branches going towards the sacroiliac joint. The result is not guaranteed but potential complications are very few and rare and, when no other solution can be found, it is well worth trying it. According to patients, the analgesic result has a duration ranging from 3 months to 3 years.
3.   Peripheral nerve stimulation by placing subcutaneous electrodes in the affected sacroiliac joint region.  The technique is applied with local anaesthesia and there is a testing period of about 1 week, during which stimulation is induced with the use of an external generator. During this week, the patient has the opportunity to find out whether s/he feels significant pain relief (>50%). Should it be so and given the patient's informed consent, the whole neurostimulation system is permanently implanted under the skin. The system includes electrodes, extensions and a generator that looks like a pacemaker. The system is being programmed telemetrically with a special programming device.
MEDICAL INFORMATION SOURCES
1. PAIN PRACTICE JOURNAL
2. BONICA"S MANAGEMENT OF PAIN
3. PAIN PHYSICIAN JOURNAL
4. INTERVENTIONAL PAIN MANAGEMENT BOOK
5. MANUAL OF RF TECHNIQUES (GAUCI)
ARTICLES
Murakami E, Tanaka Y, Aizawa T, Ishizuka M, Kokubun S. J Effect of periarticular and intraarticular lidocaine injections for sacroiliac joint pain: prospective comparative study. Orthop Sci. 2007 May;12(3):274-80. Epub 2007 May 31
Pereira PL, Günaydin I, Duda SH, Trübenbach J, Rémy CT, Kötter I, Kastler B, Claussen CD. Corticosteroid injections of the sacroiliac joint during magnetic resonance: preliminary results J Radiol. 2000 Mar;81(3):223-6