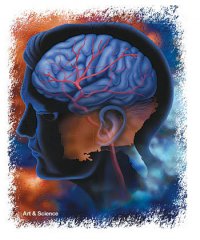 GENERAL
Post-stroke pain or thalamic pain syndrome, is the type of chronic neuropathic pain emerging when part of the central nervous system (CNS) has been impaired.
This usually occurs following a stroke with infarction or cerebral cell necrosis, due to reduction of blood flow and oxygen supply in cells.
After a stroke, the patient may manifest symptoms, such as weakness, numbness, paralysis, confusion and speech disorders. When the infarction is localized in the thalamus, approximately 10 % of the patients (besides having the above mentioned symptoms) additionally present central post-stroke pain or thalamic pain syndrome.
The onset of pain is not predictable and may occur after some days or even years. The pain may be localized in the face, upper arm, lower limb or even in the whole half side of the body that is opposite to the impaired brain hemisphere.
The pain is usually described as a feeling of pressure, a needle and burning sensation. It is a steady pain with a tendency to worsen with time. It is accompanied by impaired sensibility of the affected area. Movement and temperature changes or other irrelevant stimuli may aggravate the pain.
It is important to differentiate central post-stroke pain from other types of myoskeletal pain frequently occurring in stroke patients (frozen shoulder, loss of muscle elasticity etc). Myoskeletal problems improve with physiotherapy, while the neuropathic pain improves with specific drugs.
TREATMENT
Α. CONSERVATIVE
Pharmacotherapy with:
•   Tricyclic antidepressants
•   Antiepileptics
•   Combination of the two
•   Αntiarrhythmics
From clinical experience, satisfactory analgesia without serious side-effects is provided with:  Amitriptyline (Saroten) 10 – 50 mg daily in combination with  Gabapentin (Neurontin) 300 – 1800 mg daily or  Pregabalin (Lyrica) 50 – 600 mg daily.
•    Intravenous administration is useful in some patients
•    Deep Brain Stimulation (DBS)
According to studies,  significant relief is achieved with DBS in about 50 % of patients.
•    Cortical Brain Stimulation (CBS)
It is a more recent technique.
According to studies, significant pain relief is achieved with CBS in about 50 % of patients.
Both DBS and CBS are techniques of neuromodulation therapies and are applied when the conservative treatment fails.
MEDICAL INFORMATION SOURCES
1. PAIN PRACTICE JOURNAL
2. BONICA"S MANAGEMENT OF PAIN
3. PAIN PHYSICIAN JOURNAL
4. INTERVENTIONAL PAIN MANAGEMENT BOOK
5. NEUROMODULATION JOURNAL