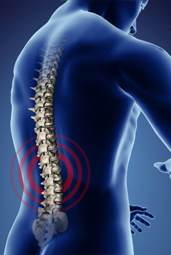 Low back pain is typically differentiated in acute and chronic.
•    Acute low back pain has a sudden onset and short duration, ranging from some days to a few weeks. It usually subsides with conservative treatment (rest, medication, physical therapy). If not treated effectively, some acute low back pain syndromes may transform into chronic pain syndromes.
•    Chronic low back pain is defined as low back pain lasting longer than three months despite the conservative or/and surgical treatment. In most cases it is quite difficult to identify the cause/s of low back pain. Radiographic imaging (CT, MRI) and clinical examination can be of diagnostic use although they do not necessarily detect the source of pain. For example, MRI findings in a patient with chronic low back pain may present  disc herniations at different levels along with facet joint degeneration, and, by ruling out other diagnoses, it may finally lead to the diagnosis of low back pain originating from the sacroiliac joints.
CAUSES OF LOW BACK PAIN
It is difficult to diagnose the cause of low back pain.  There are many different anatomical structures which may be involved in inducing pain.
•    Paravertebral muscles and ligaments
•    Nerve roots passing out of intervertebral foramina, stimulating an inflammatory reaction
•    Small nerve branches of facet joints which may be irritated
•    Vertebral bodies
•    Facet joints (also known as zygoapophyseal or z-joints linking vertebrae together)
•    Intervertebral discs
•    Sacroiliac joints (transferring body weight from the spine to pelvis and legs)
ACUTE LOW BACK PAIN (COMMON CAUSES)
a) Paravertebral muscle strains and ligament sprains
b) Acute low back pain and sciatica caused by intervertebral disc herniation
c) Acute low back pain caused by vertebral body fracture (due to osteoporosis or malignant disease)
CHRONIC  LOW BACK PAIN (COMMON CAUSES)
a) Facet joint syndrome
b) Disc pain induced by Degenerative Disc Disease (DDD)
c) Sacroiliac joint dysfunction
d) Spinal stenosis
e) Low back pain and sciatica syndrome following low back surgery
Journal Articles
Early intervention for the management of acute low back pain: a single-blind randomized controlled trial of biopsychosocial education, manual therapy, and exercise. PMID: 15507794. Spine. 2004 Nov 1;29(21):2350-6. Surgical management of neck and low back pain. PMID: 17445741 Neurol Clin. 2007 May;25(2):507-22. Clinical Trials: 2007;10;425-440. Evaluation of Lumbar Facet Joint Nerve Blocks in the Management of Chronic Low Back Pain: Preliminary Report of a Randomized, Double-Blind Controlled Trial: Clinical Trial NCT00355914 Laxmaiah Manchikanti, MD, Kavita N. Manchikanti, BA, Rajeev Manchukonda, BDS, Kimberly A. Cash, RT, Kim S. Damron, RN, Vidyasagar Pampati, MSc, and Carla D. McManus, RN, BSN Surgical versus non-surgical treatment of chronic low back pain: a meta-analysis of randomised trials. PMID: 17119962 Int Orthop. 2006 Nov 21 Physiotherapist-Directed Exercise, Advice, or Both for Subacute Low Back Pain: A Randomized Trial Liset H.M. Pengel, Kathryn M. Refshauge, Christopher G. Maher, Michael K. Nicholas, Robert D. Herbert, and Peter McNair Abstract for study: http://www.annals.org/cgi/content/abstract/146/11/787 "Meta-Analysis: Acupuncture for Low Back Pain." 19 April 2005 issue of Annals of Internal Medicine (volume 142, pages 651-663). E. Manheimer, A. White, B. Berman, K. Forys, and E. Ernst Summary of study: http://www.annals.org/cgi/content/summary/142/8/651 A randomized, controlled trial of spinal endoscopic adhesiolysis in chronic refractory low back and lower extremity pain [ISRCTN 16558617] Laxmaiah Manchikanti1 BMC Anesthesiology 2005, 5:10 doi:10.1186/1471-2253-5-10 Effect of periarticular and intraarticular lidocaine injections for sacroiliac joint pain: prospective comparative study. Murakami E, Tanaka Y, Aizawa T, Ishizuka M, Kokubun S. J Orthop Sci. 2007 May;12(3):274-80. Epub 2007 May 31 PMID: 17530380
MEDICAL INFORMATION SOURCES
1. PAIN PRACTICE JOURNAL
2. BONICA"S MANAGEMENT OF PAIN
3. PAIN PHYSICIAN JOURNAL
4. INTERVENTIONAL PAIN MANAGEMENT BOOK