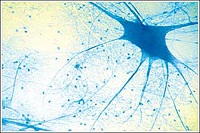 GENERAL
Peripheral neuropathy is a type of neuropathic pain attributed to dysfunction of some peripheral nerves. Peripheral neuropathy is not a disease itself but a symptom of some other disease process. It is manifested with functional nerve decline affecting various sensations, such as touch, pain, vibration, numbness and dysaesthesia (painful needle sensation).
Longer nerves are more susceptible to being affected and, as a result, peripheral neuropathy symptoms initially occur in hands and feet, following the so-called "glove and stocking" distribution. Peripheral neuropathy usually affects both sides of the body symmetrically, as opposed to other disorders like sciatica.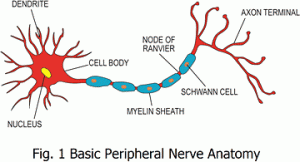 ANATOMY
A peripheral nerve consists of three parts:
•    the cell body (soma) where the DNA is stored, determining the function of the nerve cell. The dorsal root ganglion (DRG) is a collection of cell bodies of all sensory nerves terminating in one nerve root.
•   the axon, which is like an electric cable transmitting messages from the peripheral tissues to the spinal cord dorsal horns.
•   the myelin sheath, serving as a protective layer insulating the axon from electrical signals, improving conduction velocity and not allowing interference of signals from adjacent axons. The thicker the myelin sheath, the higher the nerve conduction velocity.
AETIOLOGY OF PERIPHERAL NEUROPATHY
There are over 100 aetiological factors that could lead to peripheral nerve impairment. Each one of the three parts of the nerve may be affected due to a different disease process.
DISORDERS AFFECTING THE CELL BODY
•    Poisons and toxins that can affect the metabolic function of cell bodies. The most common conditions are alcohol abuse (25-30 % of cases), malignant anaemia, exposure to heavy metals and vitamin deficiency.
•    Liver and kidney failure may cause metabolic dysfunction of cell bodies and may lead to axonal impairment.
DISORDERS AFFECTING THE NERVE AXON
Changes in the blood flow of nerves cause gradual axonal damage.
•    In the long run, diabetes mellitus causes obstructive changes in the microvascular nerve network and gradual functional decline of peripheral nerves.
•   Rheumatic diseases, such as rheumatoid arthritis, systemic lupus erythematosus, nodular polyarteriitis, Sjiogren syndrome and Wegener arteriitis, may lead to inflammation of the arterioles that supply the peripheral nerves with blood and ultimately lead to arterial obstruction and nerve impairment.
•    The chronic peripheral angiopathy may also gradually result in peripheral neuropathy.
DISORDERS AFFECTING  THE MYELIN
•    Viral infections, such as the Guillain- Barré syndrome, and chronic inflammatory demyelinating polyneuropathies
•    Charcot-Marie-Tooth disease
TREATMENT
It is important to identify the potentially reversible cause of peripheral neuropathy before deciding on one of the following treatment modalities:
•    Alcohol detoxification
•    Avoid exposure to industrial toxins
•    Close follow-up and control of blood sugar levels
•    Correction of vitamin deficiency
•    Improvement of peripheral blood flow with surgical intervention (whenever possible) or sympathetic blockade to achieve vasodilation
•    Immunosuppresants to cope with arteriitis and viral infections
DRUGS FOR NEUROPATHIC PAIN
•    Amitriptyline, gabapentin, pregambalin or their combination
•   Capsaicin 8% patch
•    Lidocain 5 % in adhesive form
•    Mild opioids or even  strong opioids according to the intensity and control of pain
INTERVENTIONAL TREATMENT
Neuromodulation techniques
MEDICAL INFORMATION SOURCES
1. PAIN PRACTICE JOURNAL
2. BONICA"S MANAGEMENT OF PAIN
3. PAIN PHYSICIAN JOURNAL
4. INTERVENTIONAL PAIN MANAGEMENT BOOK
5. NEUROMODULATION JOURNAL